Giddings Success Story: Altman Plants is the Largest Commercial Nursery in Texas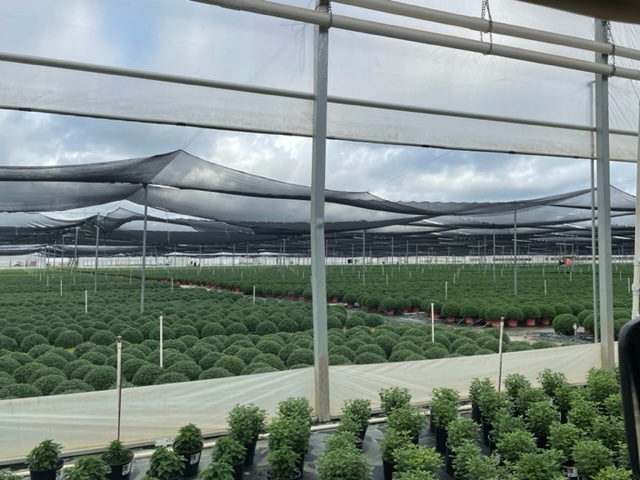 Located just 3.5 miles west of downtown Giddings, Altman Plants isn't just a growing company; it's the most sizable "growing company" in Texas. The company's sprawling 140-acre facility earned Altman its place as the largest commercial nursery in the Lone Star State.
Rows and rows of greenhouses stretch across 70 acres, with expert staffers tending to 300,000 plants per greenhouse. Another 20 acres of fields are filled with plants shielded by sunshades. Altman completed expansion of its nursery by 81 percent with the addition of 30 acres of greenhouses in mid-January of 2022.
Altman Plants supplies plants for nurseries and retail stores all over the country, and when demand for plants surged during the pandemic, Altman began selling limited quantities to the public directly.
"Giddings is a great community to do business," said Jeff Murphy, Operations Manager of Altman Specialty Plants, Inc. "They have been welcoming and excited about our growth. The Chamber and the judge have been especially great. Another great benefit is being conveniently located right off of highway 290."
The impressive Giddings facility is a branch of the extensive Altman Plants parent company with locations throughout Texas and California. What started as a hobby in a Los Angeles backyard in 1975 grew into the largest horticultural grower in the United States.
David Stedman, President of Giddings Economic Development, recently toured the impressive Giddings facility. "Altman is kind of like a city within the city. There are greenhouses as far as the eye can see. Altman's high-technology greenhouses have automated systems that adjust for high winds and inclement weather. The campus has its own wells, its own reservoirs, and they even have floating solar arrays for sustainable power generation."
Altman's floating solar array is the first in Texas. The 2,592 solar panels cover 94,145 square feet (roughly the size of two football fields), produce 750 kilowatts, and offset 1,122 tons of carbon dioxide, the equivalent of planting 26,089 trees.
This was not a typical solar project; floating arrays are unusual. While the floating array was more expensive than land-based installations, it provides the added benefit of preserving Altman's other most valued resource: water. The array reduces the evaporation of the water reservoir it rests atop, keeps the water cooler in summer, and dramatically reduces algae growth.
Altman Plants is also the leading employer in Lee County. With a capital investment estimated between $35 to $40 million, Altman creates 400 to 500 jobs in peak season. Workforce is a major emphasis for Altman, as they even provide housing for some of their workers.
"With approximately 100 acres under cultivation at any given time, Altman is really more like a high-tech plant factory. I was amazed to see how crops are planned for every growing season. Fall mums ship out as Christmas poinsettias are maturing and spring flowers and plants are being planned."
In the Giddings facility, more than 1.4 million poinsettias are grown annually. Additionally, 124 different types of plants are grown, and throughout an entire growing season, 15.4 million individual plants can take root.
The centricity of Giddings' location is crucial to Altman's operation, as they harvest, package, and truck their product throughout Texas and the country. On any given day, more than 70 trucks leave Giddings for destinations across the American Southwest. The Giddings location is the primary plant supplier to more than 500 Home Depot, Walmart, and Lowe's stores in Texas and the Southwest, and it also distributes to Costco, H-E-B, other grocery stores, and independent customers. The plants are trucked as far south as Brownsville and north to Springfield, MO.
"With the location in Giddings, and our shipping radius on our longer runs, we are able to use team drivers to make those deliveries," said Murphy. "We are able to get those trucks back in 24 hours or less so they are able to go back out on the road and keep turning our equipment."
"We like to think that Giddings can grow on you," Stedman quipped, "and at Altman Plants, they are taking that to a whole 'nother level."
Altman Plants is located at 1180 Private Road 2906, Giddings, TX. Contact them at 979-542-1165 and follow them on Facebook!
---
Ready to explore further why businesses and the creative class are choosing Giddings? Here's a hint: Giddings offers the quality of life you want at a price that's easier on the wallet. The bucolic city is ideally located between Houston and Austin, with access to advanced fiber-optic telecommunication networks, a skilled workforce, major transportation options, abundant groundwater, an Opportunity Zone, and several excellent properties for sale or lease.
Find out how the Giddings Economic Development Corporation can help you and your business take advantage of these benefits. Contact us today at 979-542-2067, edcdirector@giddings.com, or staff@giddingsedc.com! Follow us on Facebook.