Giddings, TX: At the Intersection of Highways 290 and 77, Midway to Austin and Houston
Texas is known for its robust infrastructure and highway systems. Giddings businesses benefit from access to them, highways 290 and 77 specifically. From Giddings, businesses can serve the Austin and Houston markets with ease. Over 10 million potential customers are located within two hours of Giddings and if businesses need to access a larger customer base, the rest of Texas can be reached quickly.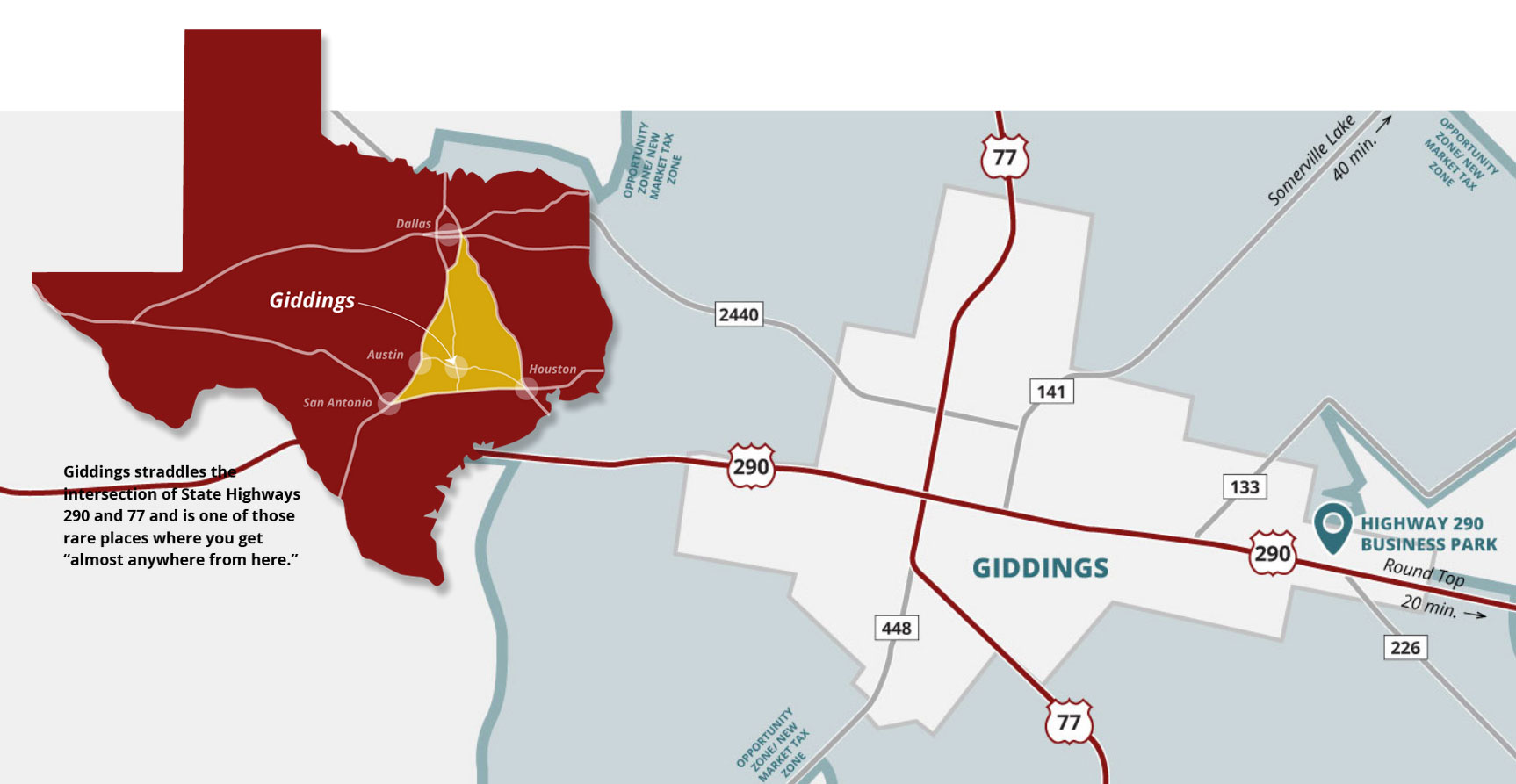 Businesses and residents can travel further using the Austin-Bergstrom International Airport, located just 50 minutes away. Houston's George Bush Intercontinental Airport is just 1 ½ hours away and the William P. Hobby Airport is just 15 minutes further. These, combined with the local Lee County/Giddings Airport, provide numerous ways to reach customers or to take a holiday. 
Giddings also offers access to the Port of Houston for those needing to ship products throughout the world. 
As for rail, Giddings offers access to that too. The Austin Western Railroad (AWRR) operates 181 miles of track from Llano, TX to Giddings, TX with a 6.4 mile branch extending from Fairland to Marble Falls,TX. The line dates back to 1871 when the Houston and Texas Central Railroad built the Giddings to Austin line. The AWRR interchanges with the UP at McNeil and Elgin. Nearly 60,000 carloads move annually, shipping commodities such as aggregates, crushed limestone, calcium bicarbonate, lumber, beer, chemicals, plastics, and paper. The Capital Metropolitan Transportation Authority began commuter service in March of 2010, sharing the rail with the freight.